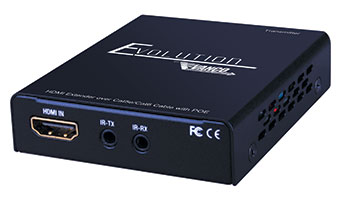 VANCO INTERNATIONAL GRANTED PATENT FOR INNOVATIVE TECHNOLOGY USED IN HDMI EXTENDERS, SPLITTERS & MATRIX SWITCH
The patent makes Vanco the only manufacturer to offer non-HDBaseT products that can extend bi-directional Power over Ethernet, transmission, and control for 4K and full HD
Batavia, IL – August 23, 2017 – Vanco International LLC, an industry leader in AV distribution and electronic accessory products, has been granted U.S. Patent No. 9,710,038 B1, the only Non-HDBaseT enabled solution available today that extends bi-directional Power over Ethernet (PoE), allowing electrical power to be transmitted simultaneously with data signals over a Cat5e/6 cable, up to 50 meters (164 feet) from the HDMI source at 4K or full HD 1080p 24-bit color, even in 3D. The patented technology was first deployed in Vanco's popular Evolution EVEX2006 HDMI extender. Given the tremendous success of the EVEX2006, Vanco has since developed a family of products using the patented technology, including the EVWP2006 and EVEXVGAHD HDMI and VGA extenders, EVMX44QI matrix selector switch, as well as EVSP1013 and EVSP1017 splitters.
"EVEX2006 is one of Vanco's top selling products and receiving a patent for the innovative technology we are using in the product is a major win for us," said Mark Corbin, vice president of distribution markets for Vanco. "We are the only source for yet another exclusive technology in the AV industry, providing installers in both residential and commercial markets with unique HDMI extenders, splitters and a matrix selector switch with bi-directional power, transmission, and control of the highest quality video signals."
U.S. Patent No. 9,710,038 B1 relates to a transmitter and receiver that exchange data from a 4K, 1080p, or other HDMI video signal along with bi-directional power and lowers speed signals using a network cable or other multi-pin cable. Vanco's proprietary bi-directional PoE technology allows power to be transmitted over Cat5e/Cat6 to both the transmitter and receiver with a single power supply. The signal transmitted on the network cable can be converted back to a media signal based on Vanco's converged signal specification. The converted media signal can then be output to a sink device via an HDMI port.
Vanco International currently owns a number of U.S. and foreign patents as well as pending patent applications. Vanco will be showcasing their full line of products including Vanco, Evolution, PulseAudio, and Beale Street Audio at CEDIA 2017, September 7-9, 2017 at Booth 3645. For more information on Vanco International, visit the Vanco website.
About Vanco International, LLC
With a 60-year legacy of serving the AV industry, Vanco International, LLC engineers, manufactures, and sells premium audio/video products and electronic accessories that are 100% QC tested from our U.S. headquarters. Backed by a team of knowledgeable support representatives and technology experts, Vanco is comprised of four unique brands including Vanco®, a comprehensive line of value-oriented residential AV products and accessories; Evolution™, a curated line of pro audio and video distribution products; PulseAudio™, an indoor/outdoor speaker and amplifier line featuring Bluetooth® technology; and most recently, Beale Street Audio™, a highly-acclaimed line of Sonic Vortex® technology architectural speakers. Vanco is committed to helping the dealer and distributor community succeed in creating high-quality customer experiences across home theater, premium audio, and commercial installations. Learn more about Vanco International at www.vanco1.com.
Press Contact:
Caster Communications, Inc., 401-792-7080
Erin Phillips, [email protected]
Alex Gil, [email protected]
Copyright ©2017, Vanco International, LLC. All rights reserved.