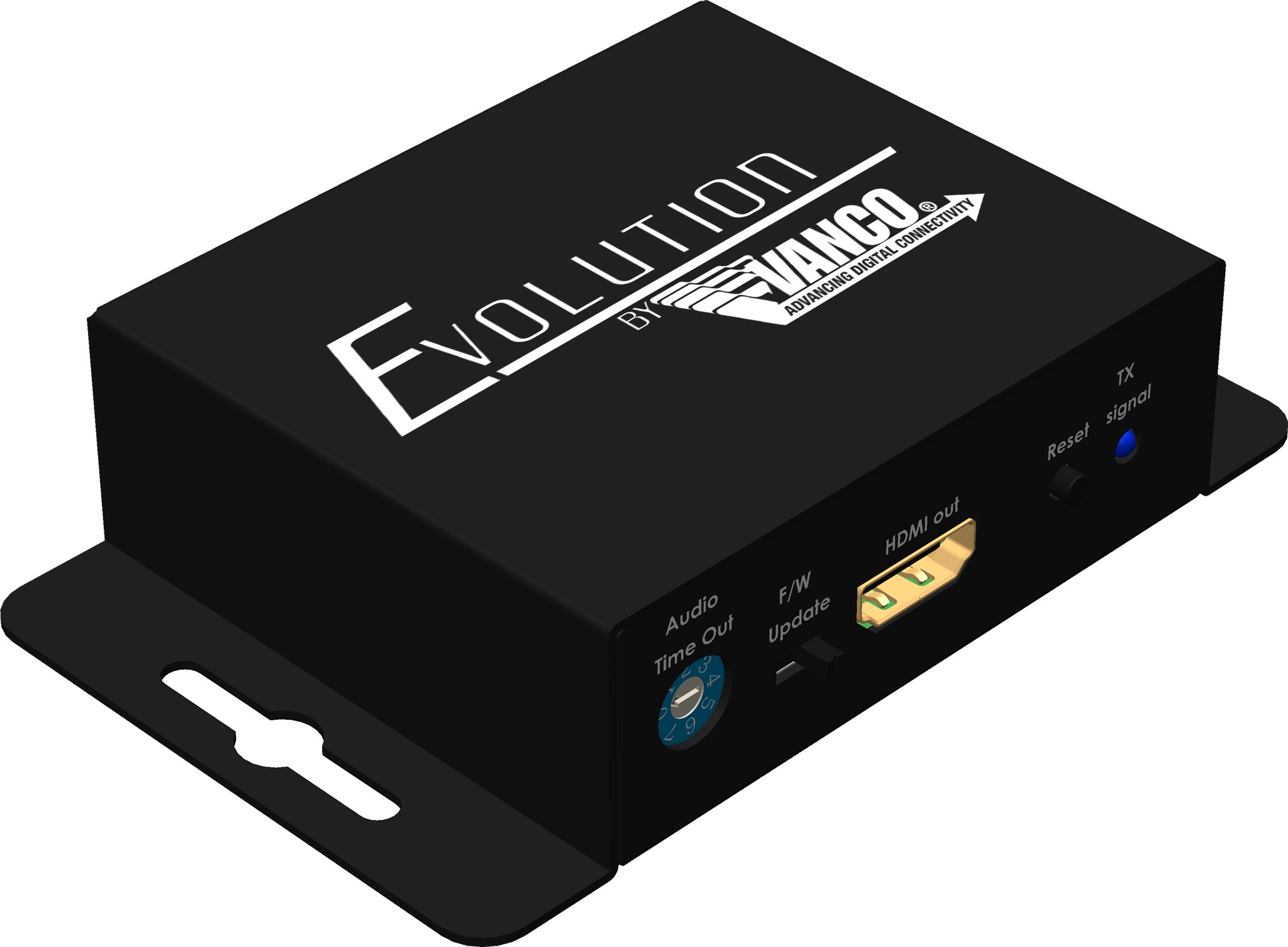 The high-quality and innovative new HDMI and HDBaseT-supporting products provide integrators with flexible solutions for AV installations of all sizes and resolutions.
CEDIA Expo 2019 – Denver, CO – September 10 – 14, 2019 – Booth #643 – Vanco International LLC, an industry leader in AV distribution and electronic accessory products, is pleased to announce the addition of the EVOSKILLZ Source Sensing HDMI Embedder, EVO-IP EZ HDMI Over IP System, and EVEXARC1 HDBaseT Extender with ARC. The three new products from Vanco's Evolution brand – built for high-quality pro audio and video distribution products – equip residential and commercial AV dealers with new solutions for installations including HDMI, HDBaseT, and support for a wide-range of resolutions.
EVOSKILLZ – Source Sensing HDMI Embedder
The revolutionary EVOSKILLZ is the first product on the market to automatically embed audio from a secondary source onto an HDMI cable, sense and switch audio, and maintain uninterrupted 4K video. Supporting both residential and commercial applications, EVOSKILLZ allows integrators to add voice control and streaming to any display, amplifier, or soundbar in the home, or provide audio messages and announcements over existing HDMI distributed systems in retail or office environments.
EVOSKILLZ provides the ability to pass [email protected] with 4:4:4 chroma, PCM, Dolby and DTS audio, and compatibility with HDR10 and Dolby Vision. EVOSKILLZ micro-USB port can be used to power the unit or to provide any future firmware updates. The unit features two dials that allow for the manual adjustment of source sensitivity (dB level from secondary audio source) and audio time out if needed.
EVO-IP EZ – HDMI Over IP System
Built off of the existing award-winning Evolution EVO-IP platform, EVO-IP EZ is a cost-effective HDMI over IP system ideal for installers looking for a matrix, switching, and splitting platform for video resolutions up to [email protected] EVO-IP EZ utilizes the same control box and GUI platform as the original EVO-IP, but with one less SKU that can be used as either a transmitter or receiver. It also includes analog and digital audio breakouts, IR and RS232 passthrough, and full cloud control through the current EVO-IP apps and interfaces for scheduling events, remote monitoring, and iOS and Android app control.
EVEXARC1 – HDBaseT Extender with ARC
The EVEXARC1 is a low cost extender that features HDBaseT 2.0 technology ideal for whole-home or commercial distribution of uncompressed high-definition signals at a longer distance than HDMI cables without degradation. EVEXARC1 utilizes HDMI 1.4 and has a transmission range of [email protected] It also includes ARC functionality, allowing audio received from the HDMI port on the receiver unit to be sent to an amplifier via HDMI or the optical audio port on the transmitter unit.
Vanco International's new Evolution products will be available in early Q4 and will be on display and demo this week at CEDIA Expo 2019 Booth #643.
Interested distributors can contact Vanco International directly for pricing. For product specifications and to learn more about Vanco International, visit the Vanco website.